Bushcraft & Survival - Wilderness Camping
We offer courses in Bushcraft & Survival and Wilderness Camping for individuals, families and groups. Our courses are based on your own experience, knowledge and preferences, ranging from "basic living in the nature" to more advanced "hard core survival". The courses are from a day trip to a longer stay in the wilderness and have the theme Survival & Bushcraft knowledge. You will learn how to survive if you find yourself in a vulnerable situation until rescue arrives or you yourself find your way home. The course also teaches you bushcraft skills for example how to create a pleasant and safe existence when you are out in the woods, whether it is on a hiking, fishing or hunting trip or something else entirely.
Background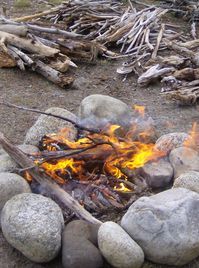 A century ago, humans lived close to nature on nature's terms. In today's modern society much of our ancestor's knowledge and skills are forgotten. We help you experience the old way of life and get in touch with nature in an informative and interesting way. The courses can be tailored to the needs of both families and the more seasoned and experienced nature people. Our courses have a mix of theoretical and practical skills and take place in the beautiful scenery of real wilderness and rich wildlife. The courses are led by experienced and trained instructors. Important to note is that our courses are always done under controlled conditions and we never expose ourselves to real survival situations. We always carry the essential equipment and have an easy exit if necessary.

If you have chosen the longer Bushcraft & Survival package or if you would like to get away from civilization, the course will take place in a true wilderness area with lots of forest. Do you prefer the security of civilization and you have chosen a shorter course, we choose an area with respect to this. No matter what field or course you choose, we will always offer the feeling of being in the wilderness with little or no trace of man.
Examples of what can be included in our Bushcraft & Survival courses
As most survival situations can be avoided through good planning, the course will include training on how to prepare and avoid getting into a survival situation (The 5 P's).

What equipment should one take with them when one goes out into the woods?

What are the dangers if one for example gets lost, what should one do and what should one prioritize?

Navigation and the art of reading a map. Navigation is done with both the compass and with nature's own attributes.

Fire is a natural and important element of staying in the wild. How to make a fire, regardless of time and place? In certain situations, for example when one has become wet and the temperature is low, it is vital that one quickly gets warm and dry to avoid hypothermia.

Fire is of course also used for cooking, purifying water and is usually the heart of a camp.

Water is the source of all life and one cannot survive long without it. We go through the options available to avoid dehydration and teach the signs of danger in regards to dehydration.
In the summer & autumn seasons the accommodation will typically be in tent/tarp or under a shelter that we have built ourselves. During the winter season, we have the possibility of sleeping in a simple wilderness cottage. If needed we can also offer accommodation in our Wilderness Lodge. We may also build other basic natural shelters and constructions to make our stay in the wild easier and more comfortable.

Some fishing is also included in our Bushcraft & Survival courses. Being able to catch ones food during a Bushcraft & Survival course is an important feature. However, we will always carry a certain amount of food with us, adapted to the situation and circumstances.

In some courses, we will be more stationary around a base camp and during some courses we will be moving from one place to another.

The amount of time and detail we spend on each category is depending on which Bushcraft & Survival course one chooses and can also be tailored depending on ones own skills. See more information on our different Bushcraft & Survival courses below.

Bushcraft & Survival Courses »